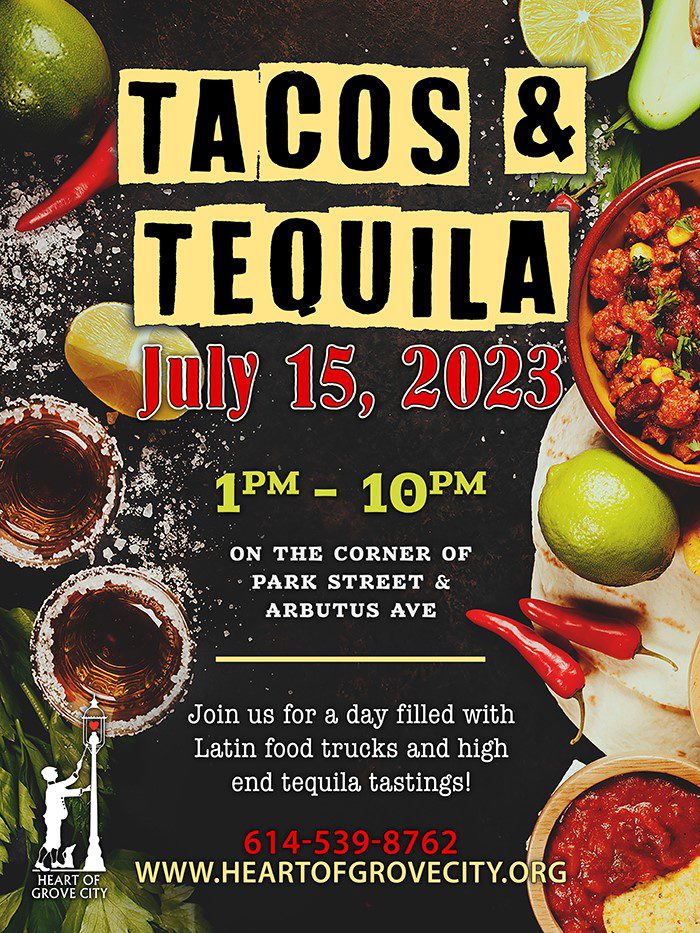 3359 Park Street, Grove City, OH 43123
1 to 10 pm, Saturday, July 15
Of all the well-known food pairings – tacos and tequila might just be at the top of everyone's tasting list. This year's annual Tacos & Tequila is more than just a festival – it's a celebration that captures a favorite flavor-packed pairing with spirited style.
Spend the day in Historic Town Center sampling tequilas of all kinds including several high-end varieties. Pair your samplings with your pick of Latin food from multiple, well-known area food trucks and vendors. In addition to tequila, Grove City Brewery will also be on hand serving up two of their own hand-crafted brews (for an additional fee).
Come for the tequila and tacos – stay for the flavor, fun, family and friends!
Details
Saturday, July 15, 1 to 10 pm
3359 Park Street (at the corner of Park Street & Arbutus Avenue)
This is a cash only event
Tickets are $30 for 8 tickets. Most tequilas are one ticket per taste, but some might be a higher ticket cost.
Food Trucks
Tacomania
Raphies Fish & Chips
Sofi's Mini Donuts
Dreia's Kitchen
AJ's Tacos
Shark Tato
Cheesecake Castle
Tequila List