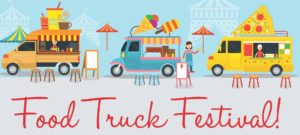 Bring your friends and come out to the town center for an evening of fun and entertainment. Food trucks will be in the town center along with all of the great eateries that you enjoy every day in the town center. The food trucks will be spread out in the town center and we will also have a shop hop where you will be able to bring your culinary adventures and enjoy specials from all of our great establishments while you relax in the town center. The shop hop will be open with participating businesses having specials. Hang out with friends and be seen enjoying all that the town center has to offer.
Friday evenings from 4 to 9 p.m., in historic Grove City Town Center.
May 12
May 26
June 9
June 23
July 7
July 21
July 28
August 4
August 18
September 1
September 15
September 29

What The Float

Kona Ice

Daily Bread by Continental

Empanada's & More

Cheesecake Castle

Tito's Asian Kitchen

Manna Banana Frozen Banana Cart

Roadster

Taesty's

Layla's Sweet Treats

Fancy Feeding You

McDave's

Hogs N Hunnies

Elegant Edge Catering

614 Food Truck

Dreia's Kitchen

October 13
October 27
Most of these dates also highlight the Summer Sizzle Concert Series where there will be music on the stage at the corner of Arbutus and Park Street.
These dates are also DORA days where you can get your favorite adult beverage from local establishments and enjoy the downtown area.