Jackson Township, Grove City and Franklin County children could use your help. Many families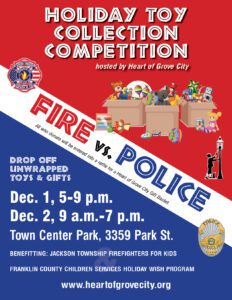 struggle to make ends meet during the holidays. You can help a family experiencing tough times, by donating a toy for children in need this Christmas!
Annually, the Jackson Township Firefighters for Kids program is offered by the Jackson Township Fire Department and the Cram The Cruiser event is offered by the Grove City Division of Police.
Together, how about a little friendly competition to help children this Christmas season?
Red vs. Blue! You choose which department you would like your toy donation to go towards.  At the end of the weekend, it is a win-win for everyone.
A trophy and bragging rights will be awarded to the department with the most toy donations collected.
Donations of new, unwrapped toys will be accepted and collected for the Heart of Grove City Fire and Police Toy Program on Friday, December 1 and throughout the day, Saturday December 2 at the Heart of Grove City Mistletoe Market, located at 3359 Park Street, Grove City.
***BONUS*** – for every toy donated, your name will be placed in a drawing for incredible prizes and gift cards from our very own Heart of Grove City businesses and restaurants. ***
For more information about the Heart of Grove City Fire and Police Toy Program and Competition, please contact the Heart of Grove City at 614-539-8762.
We thank you in advance for your willingness to help!