Wine and Arts Festival
June 18 and 19, 2021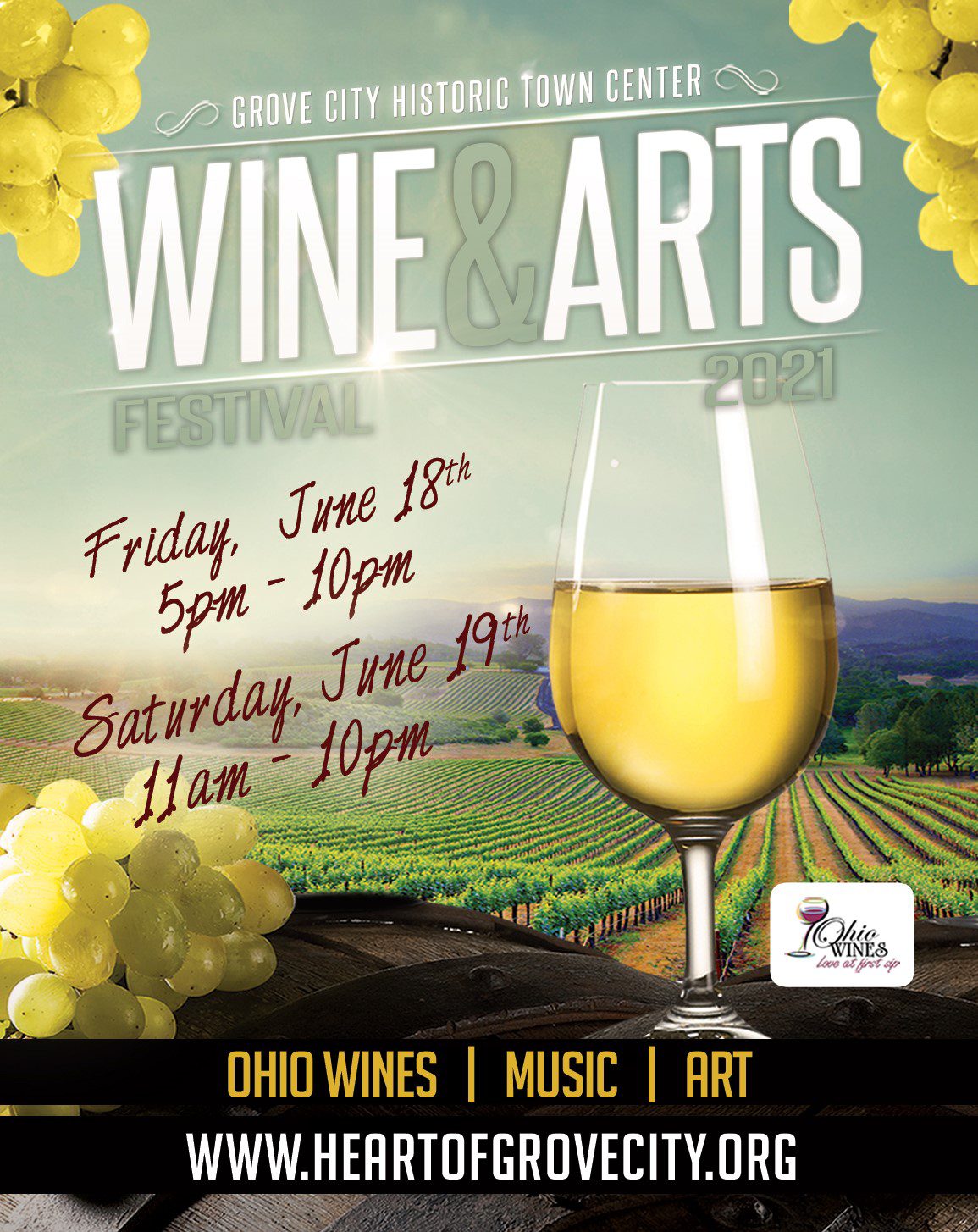 There is a possibility that with the COVID-19 pandemic, that the event may be cancelled. We have set a date of May 14th to make a decision to move forward or cancel. We are working closely with the Ohio Department of Health, Franklin County Board of Health, and the City of Grove City to ensure the health of the public is a priority.
With that said we hope that we will be able to proceed and we will be still taking precautions. We will be separating booths to ensure social distancing between them and to keep the attendees a safe distance as well. Mask will be required by vendors and attendees. Mask can be lowered to take a sip of the fantastic wine selections but must be worn in between those sips or can be removed if they are sitting at a table.
If we are able to proceed we will do everything we are able to do to ensure the safety of the vendors and attendees and we hope you are comfortable with participating in the festival.
Unfortunately due to the for profit companies like BMI and ASCAP, music licensing companies,  we will not be offering any live music going forward.
By Lisa Morefield, staff writer
Join the growing trend this June 18 and 19, 2021! Enjoy a pairing of upcoming wineries and art surrounded by Heart of Grove City's unique spin of hot spots and culture. The festival, now in its eight year, repeatedly draws 30,000 wine and art enthusiasts from all over Ohio and beyond. Coverage in magazines such as Columbus Monthly, Columbus Parent, and City Scene Magazine makes this Wine and Arts Festival a desirable event for the best of the over 20 Ohio wineries to offer samples of their best vintages. Experience a large variety of wines and small plates in one location, while finding perfect fine art adornments for their homes. In some cases, wine tasters can even create art.
Over twenty wineries are expected to present their latest creations. In addition to a variety of Ohio vineyards and wineries, guests can enjoy Heart of Grove City's own Plum Run Winery.
Sampling and shopping develops an appetite!  Delicious meals are plentiful in the town center. Select from the satisfying comfort food of Sue Terre's Food Affair to some high end food trucks, and everything in between.
Tickets are available the day of the event and come in bundles of 8 with a glass for only $25. Usually, each sample runs only one ticket, but some may require more tickets for a tasting or a glass of wine. After the initial purchase, additional tickets are available at 3  for $10. The event runs in the heart of Grove City's historical area from 5 to 10 pm on Friday June 18 and 11 a.m. to 10 p.m. on Saturday June 19 .
Looking to attend the Wine and Arts Festival from out of the area? To find out more about the hotels, visit http://visitgrovecityoh.com/sip , to see all that we have to offer to our visitors!
Vendor application Deadline is May 14, follow this link to the application pagehttps://www.heartofgrovecity.org/2021-art-submissions/, 
Our Shuttle Service will also be stopping at the Broadway Center at the corner of Broadway and Southwest Blvd. Park and Ride the shuttle to the annual Wine and Arts Festival. Pick up and drop off on the East side of Firestone.
Parking is available through out the town center and surrounding neighborhoods. We will provide shuttle service from the parking lot at the Broadway Center on the corner of Southwest and Broadway.
Thank you to our sponsors!
Your business could be listed here, contact Andy Furr at andy@heartofgrovecity.org to learn how.
Participating Ohio Wineries will be listed soon.
 Fun in the sun last year!
Will your picture be on here?