Quick Square Consulting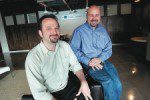 Description:
At Quick Square, we believe that a website should reflect not only what you do but how you do it.  It should express the attitude, confidence and personality of your brands, products and services.  Just as most successful businesses grow and change, your website should also be fluid, adaptable and agile to echo the trends and rhythm of  your business and industry.
To achieve the most effective websites, we advocate collaboration and strategy.   In the discovery stage, we listen and learn about your business then challenge you to consider the future and its opportunities.  We strategize methods to bring you the best possible website results.  Much consideration is also devoted to the website visitor, your potential client, by creating a relevant and user-friendly experience.