Hop Yard 62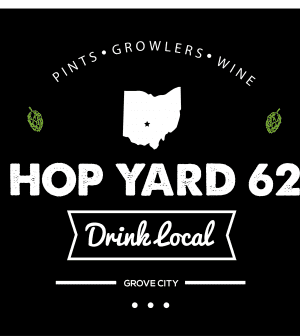 Hop Yard 62
By Jenna Craig
Marketing and Communication Manager
Grove City Area Chamber of Commerce
Craft beer has become more than just enjoying a drink with friends for Greg Solt, it's a way to bring the community together. It has become such a passion of his that he decided to open his own craft beer bar, Hop Yard 62, in Grove City. Hop Yard 62 will have its grand opening on February 6.
It all started two years ago when Greg and his wife, Tamara, discovered craft beer at the Garden Cafe in downtown Grove City. They loved the atmosphere so much that they started going multiple times a week. They felt right at home and formed a tight bond with the people they met at the Garden Cafe including the owners, Will Roberts and Carol Alberts.
When the cafe was sold, Greg and Tamara didn't feel the same sense of community anymore. They wanted to bring the community back, music back, and friends back.
"The entire community misses the fun little craft beer bar, the place where lifelong friendships begin," said Greg. "So… we bought the bar."
So how did the Garden Cafe transform into Hop Yard 62?
"'Hops' is one of the key ingredients in craft beers and was grown in Ohio until the early 1900's. Currently, a Hop Yard Plot is being tested in Wooster, OH and features a quarter-acre setup designed to research about 10 varieties of hops," said Greg. "While 62 is a reference to the state route that runs in front of the current location of the bar."
Hop Yard 62 is not your average bar. They specialize in craft beer and their main goal is to educate the consumer. They urge customers to test their palette and add more body, more flavor to their beer.
Self proclaimed history nut, Greg, really has a passion for this bar. He aims to give customers an alternative to domestic beer. He hopes to educate them about the many different options of craft beer that people don't always know about, or haven't had the chance to try it before.
"Craft beer has so many different flavors that you never know what you're in the mood for," said Greg, "it can change by what you're doing, what you're tastes are, or the weather."
Hop Yard 62 supports local establishments and truly wants to bring the community together. They will always have 3 local breweries on tab and although they do not sell food, they will have menus from local restaurants that will deliver right to the bar. Food trucks will also be available in the Yard to offer customers a choice.
Hop Yard 62 is unique not only because of its mix of vintage and industrial look, but because of the passion the owners have for their business and educating the consumers. If you enjoy craft beer, or are interested in learning about it, a wine lover, adventurous, or want to unwind after a long day, Hop Yard 62 is the place for you.
"We hope to bring the locals back to the place where it all started. We hope that people will enjoy a pint, take home a growler, or just hang out for a while"
For more information about the bar and their list of craft beers, visit www.hopyard62.com, or to support Hop Yard 62's Indiegogo Campaign and help bring good beer, good music, and good friends back to Grove City, visit www.indiegogo.com/projects/hop-yard-62