Central Ohio Military Museum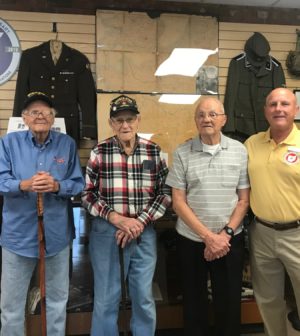 As he reflects on the approaching one-year anniversary of opening the Central Ohio Military Museum, Bob Traphagan expresses satisfaction and gratitude.
"It's been remarkable. It's been a learning experience," he said. "Being a museum curator has turned out even better than I expected."
The best part is, he said, "Getting to meet all the veterans and hearing their stories.
"Every person who has served in the military has a story to tell, and all of those personal stories make up the overall story of our armed forces," he said. "Whether they served in wartime or during peacetime, in the military post in the states or overseas, each person's story is important because it's their story."
The Grove City resident opened the museum Nov. 11, 2018, at 1010 High St. in Harrisburg after purchasing the building from Veterans of Foreign Wars Post 11208. The opening day was the 100th anniversary of the end of World War I.
For 10 years, Traphagan had been searching for a permanent location to display his collection of thousands of pieces of memorabilia, including hundreds of uniforms from all branches of the service and many more items, such as medals, books, letters, photographs and military pins. He had been storing the memorabilia in the basement of his residence.
"I was approaching age 65, and (my wife) Rita and I talked it over and agreed if something didn't happen soon, we were going to give up on the idea of opening a museum," Traphagan said. "Then we were lucky to find (the VFW building) was available.
"It was a perfect fit to be able to open the museum in the VFW building, and the nice thing is they still hold their meetings here each month," he said. "We help them out and they certainly help us out."
Traphagan said about 70% of his collection is on display in the museum, and he's able to store the rest elsewhere in the building.
"We have our basement back again," Rita Traphagan said.
The collection includes items representing every era of U.S. military history, from the American Revolution through the Global War on Terrorism.
The museum displays many of the uniforms Traphagan has collected from veterans and their families.
"We try to display as much information as we can about the person associated with each uniform," he said.
Visitors also can learn about the Gold Star veterans from the Grove City, Orient and Harrisburg areas, Traphagan said.
The museum is host to a breakfast for veterans from 10 a.m. to noon the second Saturday of each month, featuring coffee and doughnuts and a guest speaker or presentation.
Traphagan also works with veterans or their families to assemble a file and biography of their military service.
He has completed more than 400 biographies and has copies of each file collected at the museum.
"I do this at no charge, but if someone asks me 'what do I owe you,' I'll just say, you can make a donation to the museum, if you like," Traphagan said.
The Central Ohio Military Museum is a 501(c)(3) organization and donations help pay the museum's operating expenses, fund additional displays and building improvements, he said.
The museum, which doesn't offer memberships, charges a $2 admission fee, with veterans offered free admission.
With the museum's first anniversary approaching, Traphagan is running a special fundraising effort through Nov 30, although donations are accepted year-round.
Contributions can be made using the donation link on the museum website, thecomm.org; the donation button at facebook.com/central-ohio-military-museum-277263789771725, or by mailing a check to Central Ohio Military Museum, 1010 High St., Harrisburg 43126.
The museum's monthly operating expenses are about $1,000, Traphagan said.
Hours are 9 a.m. to 5 p.m. Tuesday through Saturday, with extended hours to 8 p.m. Fridays. Tours are available on request.
afroman@thisweeknews.com
@ThisWeekAfroman